Wholesale Cut Lumber and Lumber Products
From hardwood floors to railroad ties, our lumber is used for many different applications. Save when you buy your lumber straight from the sawmill! Located in Lancaster County, Pennsylvania, our sawmill produces high-quality hardwood lumber, which we sell by the trailer loads to large companies. Choose from a broad range of hardwood options including white oak, red oak, white ash, birch, soft maple, cherry, poplar, walnut, and hickory lumber. Each lumber species is available in the following thicknesses.
4/4

5/4

6/4

8/4

10/4

12/4

16/4
Planks are available in a wide variety of widths and lengths.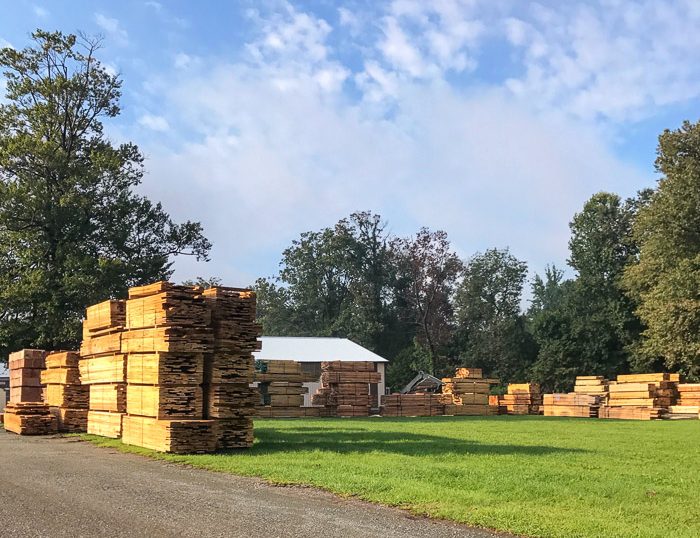 In addition to rough cut lumber, we provide several lumber products.
Hardwood grade lumber

– Lumber for woodworking is

NHLA

graded, providing the quality required.

Industrial blocking

– Jack up or stabilize heavy equipment and structures. Lighter and more maneuverable than steel plates.

Pallet blocking

– Sturdier than stringer pallets, and preferred outside of the US. Transport materials and goods usually moved with equipment such as a forklift.

Railroad ties

– Support for rails in railroad tracks. Provide green wood rails cut 7" x 9", to be treated by the buyer. Also popular in landscaping and gardening for borders, retaining walls and raised garden beds.

Mat timbers

– 8″ thick timbers create mats commonly used to construct temporary industrial roads and stabilize the ground.
Contact Stoltzfus Forest Products for pricing and delivery availability!
Stoltzfus Forest Products is a member of the Pennsylvania Forest Products Association and National Hardwood Lumber Association.