Sustainable Forest Management in PA and MD
Too many forests have fallen victim to greed and exploitation.
We believe that silviculture, the art and the science of sustainable forest management is the way to prevent and heal this tragic destruction of wooded landscapes. With proper tree management, you can take action today to improve your landscape for future generations.
At Stoltzfus Forest Products, our professionals train in multiple facets of forest management. Contact Us.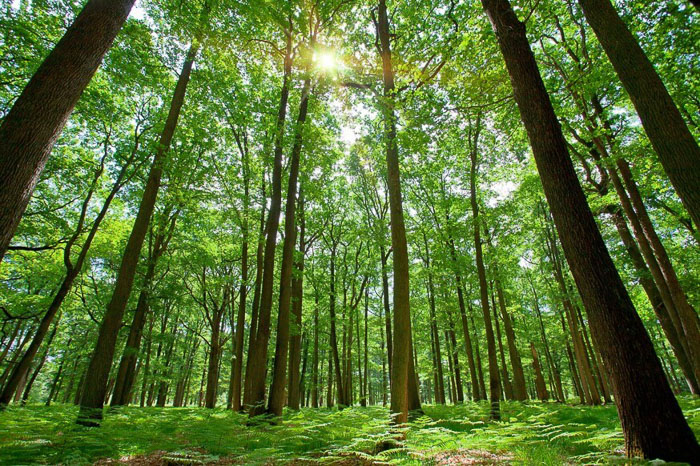 Benefits of Proper Forest Management
A well-managed forest cleans the local environment, creates excellent habitat for wildlife, promotes biological diversity, and sustainable growth, preserves and improves the land, provides renewable building materials, and nourishes a refreshing place for recreation. Many times trees must be harvested to reap these benefits. 
"How Can I Get the Most out of My Tree Harvest?"
We have compiled some of the most common questions we are asked. In this FREE PDF you can find our answers to those questions. 
How to choose the right method of harvest
What to avoid when harvesting your trees
The benefits of proper forest management
And more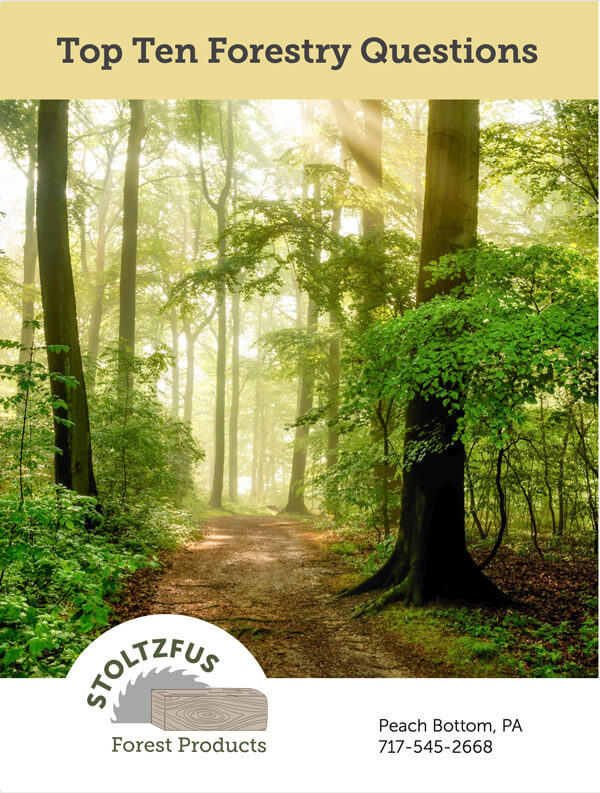 Download our Top Ten Forestry Questions PDF
Fill out the form, and we'll email you the link to download the PDF.
Here are the advantages of working with Stoltzfus Forest Products:
Erosion & Sediment Control Plan:

We include an easy-to-read-and-file sediment control plan with every harvest. We want to ensure exceptional stewardship of the environment and the ecosystem.

Firewood or Mulch Voucher:

As a bonus, you will receive a voucher for a half-cord of firewood or three cubic yards of mulch from our yard. After the project is complete, you bring your voucher and transport vehicle to claim your load!

Forestry Guidance & Optimized Harvests Plan:

Our seasoned foresters will guide you through a series of choices to ensure the best harvest value and ongoing woodland management strategy for the short- and long-term.

Specially Trained Loggers Who Care:

Our loggers will care for your property as their own. We not only want your experience to be delightful and headache-free, but we also want your land to be in tip-top shape throughout the process.

Payday Now™ Payment Structure:

As soon as we finish marking and you sign a contract, we're committed! Though it might be a few months till the harvest, as soon as we are ready to begin, we'll send you a check for 100% of the agreed-upon sum before any trees are cut. It's as easy as that.
We want you to have a positive experience when working with Stoltzfus Forest Products. Your land should be productive and cared for well. 
After determining your need on the phone, we meet with you to guide you through critical decisions in the harvest process and create a harvest plan for your woodland.

We walk and mark the timber according to the harvest plan, focusing on both best dollar value strategies combined with what timber removal will make your forest the most healthy and robust.

Our certified logging crews harvest the timber. Our loggers take great pride in caring for your property like it is their own throughout the process.

There are smiles all around. You are rewarded with strong cash value, and your forest is growing back in health and beauty.
Creating a Forest Management Plan
Manage your forest easily with a forest management plan. The first step is to gather forest inventory data, which will describe soil and timber types, the estimated density of trees, wildlife habitat, and other resources that need protection. With this inventory, we can make recommendations based on your forest's current conditions and objectives. We will tailor a plan specifically for your needs. Get a quote today.
Dan Davis
– Dan has over 40 years of timber management experience. He is a registered professional forester in Maryland and a member of the Society of American Foresters.
Chris Figgs – Chris has over 18 years of experience with timberland and tree management. He graduated from West Virginia University in forest resource management and is a member of the Society of American Foresters.
A tribute to Guy Sexton, an industry veteran who served Stoltzfus customers as a forester for over 18 years. "Rest in peace, Guy; you are greatly missed by all who knew you."
Stoltzfus Forest Products is a member of the Pennsylvania Forest Products Association and National Hardwood Lumber Association (view our NHLA profile).
A minimum of 50 trees is required for Stoltzfus Forest Products to harvest your timber.